Faculty
30 Years of Leadership and Enduring Legacies
Lakshmi Atchison, Ph.D.
Professor of Biology & Director of Biomedical Lecture Series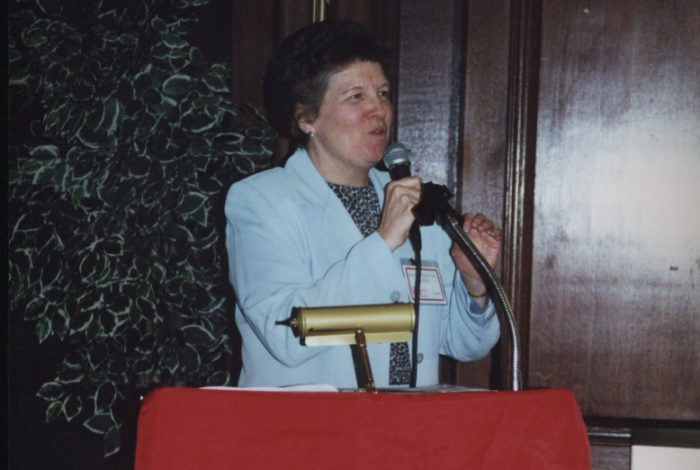 It is with great honor and privilege that I write on this special occasion to express my gratitude to President Carol Jean Vale, SSJ, Ph.D., retiring after 30 years of selfless and dedicated service to Chestnut Hill College. The College community will be celebrating Sister Carol's extraordinary leadership role throughout this academic year by embracing her numerous accomplishments. These include her core values in a holistic approach to education, strong dedication to spiritual enrichment, smooth transition to coeducation, cultivation of college sports for men and women and continued growth of Chestnut Hill's NCAA Division II Intercollegiate Sports, expansion of student dorms, welcoming diversity, equity, and inclusiveness, building programs at the Sugar Loaf campus, and bringing peaceful and magnificent growth to the beautiful College campus on the two hills. These are just a few among the many legacies and leadership roles of Dr. Carol Jean Vale, SSJ that will be celebrated throughout this academic year and beyond.
The Biomedical Distinguished Lecture Series was established and became highly successful on Sister Carol's watch. It is with deep gratitude that I thank you for your steadfast and unwavering commitment to our Lecture Series. Because of your whole-hearted support, the Series became highly successful, prestigious, and is recognized as unique among undergraduate institutions throughout the nation. I am grateful to you for taking time to meet and greet our speakers who were inspired and enriched by meeting you. The Series speakers include Institute Presidents, Deans, Directors, Endowed Department Chairs, Professors, Section Chiefs, many members of the National Academy of Sciences, winners of the Lasker Award, the Benjamin Franklin Medal in Life Sciences, the General Motors Cancer Research Foundation Award, Team Physicians for the Philadelphia Phillies, and Philadelphia Eagles, as well as 3 Nobel Laureates. Our students received a lifetime opportunity to meet these elite speakers. These professionals have come from coast to coast and north to south, including Germany, thus putting Chestnut Hill College on the global map.
Sister Carol, you recognized the Biology Department as a "Signature Program" and graciously appointed me as Chair of the Natural Science Division. The Signature Program has stood the test of time throughout the years. The Natural Science faculty continue the traditions of excellence by being academically strong, collaborating with neighboring institutions, successfully articulating agreements with Fox Chase Cancer Center and Thomas Jefferson University, publishing papers in peer-reviewed journals, being recognized at national conferences, chosen as national conference chairs, developing strong educational programs and models, and earning recognition and awards, including a US Patent. Some of our Natural Science faculty also received the Lindback Distinguished Award for Excellence in Teaching. Our students have co-authored scientific papers in leading journals and are accepted to graduate and medical programs at prestigious institutions like
Temple University School of Medicine, Thomas Jefferson University, University of Pennsylvania, and Yale University. Our students have also become successful professionals in biological, molecular, biomedical, pharmaceutical, dental, nursing, environmental, and forensics fields, and some are now practicing veterinarians and physicians.
All these are your enduring legacies that were possible due to your profound commitment to science and medicine. As Nobel Laureate Dr. Michael Brown said to me: "I was impressed with the vigor that Sister Carol had instilled on this quiet campus. Her support of a scientific lecture series in a faith-based college is strong testimony that there is no conflict between science and faith. I wish Sister Carol great contentment as she embarks on a new stage of life."
Sister Carol, I am truly grateful to you as we celebrate 30 years of your great leadership throughout this academic year, and your legacy will forever remain on this beautiful college campus that shines on the two hills.