Friends
Reflections on a Great Leader and a Dear Friend
Carol McCullough Fitzgerald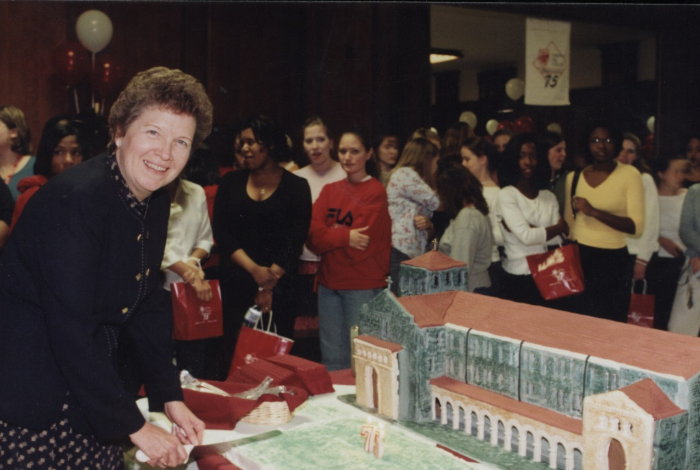 It is an honor to reflect upon my treasured friendship with Sister Carol Jean Vale. She is truly extraordinary, a force of nature! Sister Carol's positive impact on the many individuals, institutions, and organizations she engages with is remarkable. She performs the simplest task and the most challenging mission with equal ease, dignity, charm and equanimity.
From the moment I met Sister Carol, I knew she was remarkable. Warm and welcoming, bright and discerning, she embraced me with her lovely smile, warmth and charm. I first became acquainted with Sister Carol when a friend on the Board of Directors asked me to join the committee involved in the acquisition of Sugarloaf. At that point, no one knew of my family's long-standing friendship with the Greenfield family. My new association with the College, along with my lifetime friendship with the Greenfields, gave me great pleasure. Sister Carol's gentle yet strong and forthright manner was the recipe for success, not only in the plan to acquire Sugarloaf, but in every aspect of Sister Carol's professional and personal life. What an exciting time for the College! I felt honored to be involved with this transformative mission conducted by such an inspirational leader. Sister Carol always exhibited brilliance, strength, and charm — even in the most challenging times.
Sister Carol attracted bright, caring, genuinely good and nice people. I was excited to work with such wonderful people! During this period, I often thought of my dear father who was Albert M. Greenfield's favorite architect, builder and advisor and who was an early lay Director of Chestnut Hill College as well as a close friend of Sister Mary Xavier. As my friendship with Sister Carol grew and as I became more involved in the College's initiatives, I felt that I was on a parallel path with my father. How wonderful!
All of my adventures with Chestnut Hill College and the Sisters of St. Joseph have been extraordinary and have largely centered around Sister Carol. In my years on the Board and on various committees, my experiences have been positive, productive, and joyful. Sister Carol and those around her set the tone and forged the supportive and loving community.
While Sister Carol is religious and academic, she is also a sports fan and a very knowledgeable football fan! It seems incongruous, but her enthusiasm for the game is spirited and avid. Sister Carol can discuss the fine points of the game with virtually any football fan! Her love of the game led her to establish Sprint Football at Chestnut Hill College, giving young men the opportunity to play college football!
As I reflect on my years of friendship with Sister Carol, I feel blessed to have experienced the joy, excellence, positive energy, kindness, generosity and gentle and loving ways of this extraordinary leader. We have all been blessed by her presence in our lives.
With much love and admiration,
Carol McCullough Fitzgerald