Alumni
Royal Elevator Ride
Caitlin Kain
Class of 2013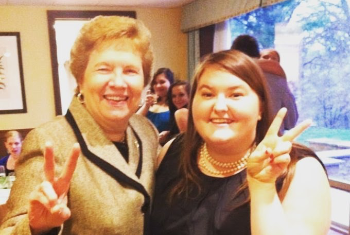 I remember vividly the first time I ever met Sister Carol – mostly because I didn't know the person I was meeting was Sister Carol. This story tops a very long list of embarrassing moments but in turn, is a story that truly defines the experiences I had at the Hill.
It was November 2009, and I was preparing for the ever stressful event that would dictate my entire future at CHC: class registration. If movies and TV shows taught me anything, it was that you needed to rush and register ASAP, but as a first-year student, I was registering last which meant seats would be limited. This was the first semester that Chestnut Hill was doing registration entirely online, so asking for advice from upperclassmen was useless. Registration for First Years happened on a Friday at 9 AM and for any Griffin, that might as well have been 7 AM on a Saturday. I got up early and triple-checked the classes I wanted (I mean, obviously I had to get that spot in Spanish 102 with Sister Jean and Forgiveness and Reconciliation with Sister Nearney) and sat with my roommates and stared at the clock waiting for it to strike 9.
And sure enough, 9 AM came and we quickly went to register for classes. I could hear the victory from my roommates getting into their classes with ease, but for me, it wasn't so joyous. I couldn't log in. I went through the steps and I did everything logging into my MyCHC, so what did the registrations gods have against me? Every second of not registering for classes, I became more and more stressed. All I could think was "I'm not going to get the classes I wanted or be in the classes with my friends or in the right classes as a newly declared Education major". I had to think of a plan quickly and as a Freshman, the only idea I had was walking to the registrar in fury. I quickly emailed my advisor for help, closed my laptop, and started to make my way from Fournier to St. Joes.
I should also mention that even though it was November, I was wearing a white tank top I had slept in the night before, CHC sweatpants, and flip flops. My hair was in a messy bun, essentially screaming "I just rolled out of bed and should not be out in public" This was the outfit I decided to wear to prove to the registrar that the online registration was broken.
I decided to take the elevator to the third floor. The elevator first went down to the basement, seriously just my luck. I was fuming, mentally preparing to cause a frenzy with some speech as I'm clutching my laptop. The doors open and in walks a woman in her infamous power suit. A power suit that I would soon always talk about to friends and to families on tours when I became a Student Ambassador, but at that moment it was just a woman in a suit. The doors shut leaving just her and me in the elevator.
The elevator is moving and I'm still preparing whatever speech I was going to have with the Registrar's Office. I'm shaking my head and, quite honestly, probably mumbling to myself. The woman on the elevator starts to talk to me asking "Are you a first-year student?" And I answered yes. She asked about my experience so far and I said I have loved it despite the fact that I was seconds away from losing it for not being able to register for classes.
She continued on asking where I was from and what high school I went to. I told her I was from Neptune, NJ but went to St. Rose High School in Belmar, NJ.
I should say St. Rose has a lot of Sisters of Saint Joseph (SSJs) teaching, living in the convent on campus and being involved in the community. I was taught by SSJs in high school which was one of the reasons I chose Chestnut Hill because I liked what the SSJs represented. As someone going away to college, being around SSJs gave me a sense of home. Something else to note is that the SSJs at St. Rose at some point was at Chestnut Hill.
This would have been good information to know before this moment in the elevator.
When I said St. Rose the woman cheerfully said "Oh St. Rose! I used to teach there." I grew excited because finally, someone understood where I was from in New Jersey. I followed up by asking when she taught there. At this point the doors opened to the second floor and a Sister walked into the elevator, this woman stepped out of the elevator, turned around to look at me, and said as the doors were closing:
"Long before you were born."
The doors shut and I stood there confused by this interaction.
The Sister who had just entered the elevator asked me "Do you know who that was?"
I shook my head no.
"That was Sister Carol Jean Vale."
I stared at the woman wide-eyed and got off on my floor. I just shared the elevator with the President??? I thought to myself. And I was wearing flip-flops?!
I remember standing in the hallway bewildered when I heard my name being called. It was my advisor. She said she fixed the problem and I was registered for my classes. I nodded and said thank you because any anger or emotion at this point had left me.
I eventually did tell this story to Sister Carol two years later at a Pizza and Prayer event that took place at her house. This is also where I would find out that we had a mutual love for Downton Abbey (Sister Carol if you are reading this, I can't wait for the new movie to come out!)
Sister Carol set expectations that I didn't know existed when it came to a workplace and a college. She made it a point to get to interview every employee at Chestnut Hill, which I thought was a normal practice that Presidents do until I got my first job at a university after graduating. She didn't just preach about communities because she created and immersed herself in one. She was with the students like neighbors and made points to try to connect with every student.
As a senior at Chestnut Hill, I was awarded the President's Award. Accepting the award, I went on to introduce myself but she stopped me to say that she knew who I was. I hope to bring that community and connection with all the students that I work with as well as a sense of belonging.
This is a story that I tell now with humor. It's a story I tell friends, coworkers, and now the college students I work with as an Academic Advisor, with the lesson that you never know who you will meet on an elevator ride.
Caitlin Kain graduated with a degree in Elementary Education in 2013 with no technical difficulties registering for classes after her first semester at Chestnut Hill. She went on to earn her Master's in School Counseling from Saint Peter's University and is an Honors Academic Advisor at New Jersey Institute of Technology. Caitlin Kain is doing fine.