Sister Carol
The Chestnut Hill College years
Sister Carol Jean Vale
30 Years at Chestnut Hill College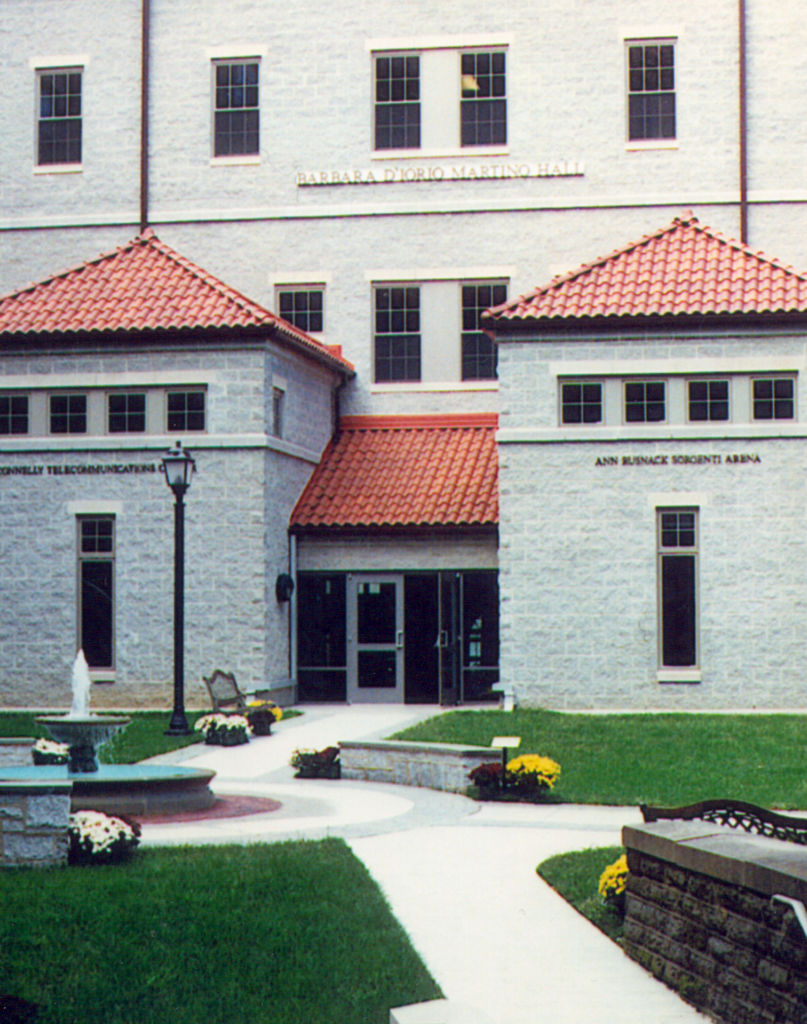 MARTINO HALL
Chestnut Hill College philanthropy transformed
Constructed in 2000, Martino Hall was the first new building added to campus in over 40 years. It's opening, however, unlocked a new era of giving at Chestnut Hill College—and Sister Carol was the galvanizing motivator at the center of it all.
Securing the first $1 million gift from an alumna, Harold Sorgenti* and Ann Rusnack Sorgenti '58, Sister Carol drew the attention of the Connelly Foundation and Rocco Martino*, Ph.D. and Barbara D'Iorio Martino '60 to the tune of $2.5 million… each.
Modernizing education
Martino Hall includes Sorgenti Arena, lecture-style classrooms with smart technology and the J. Hugh* and A. Nancy O'Shea Devlin '64 video production rooms.
More than a milestone
Marking a pivotal moment in the College's history, the opening of Martino Hall set in motion a period of dramatic transformation and growth for the College.
The first of many
Martino Hall set into motion the first of many changes to the College's physical landscape. In 2006, the Mary Jackson Fitzsimmons '35 Hall opened as a residential hall for junior and senior-level students and in 2018, Clement Hall classrooms were renovated and remodeled to enhance the quality of the learning environment.
McCaffery Lounge, Gulati Fitness Center, Saint Joseph Hall 2nd and 4th floor and the SugarLoaf Chateau, Lodge and Carriage House have also undergone significant renovations throughout Sister Carol's tenure.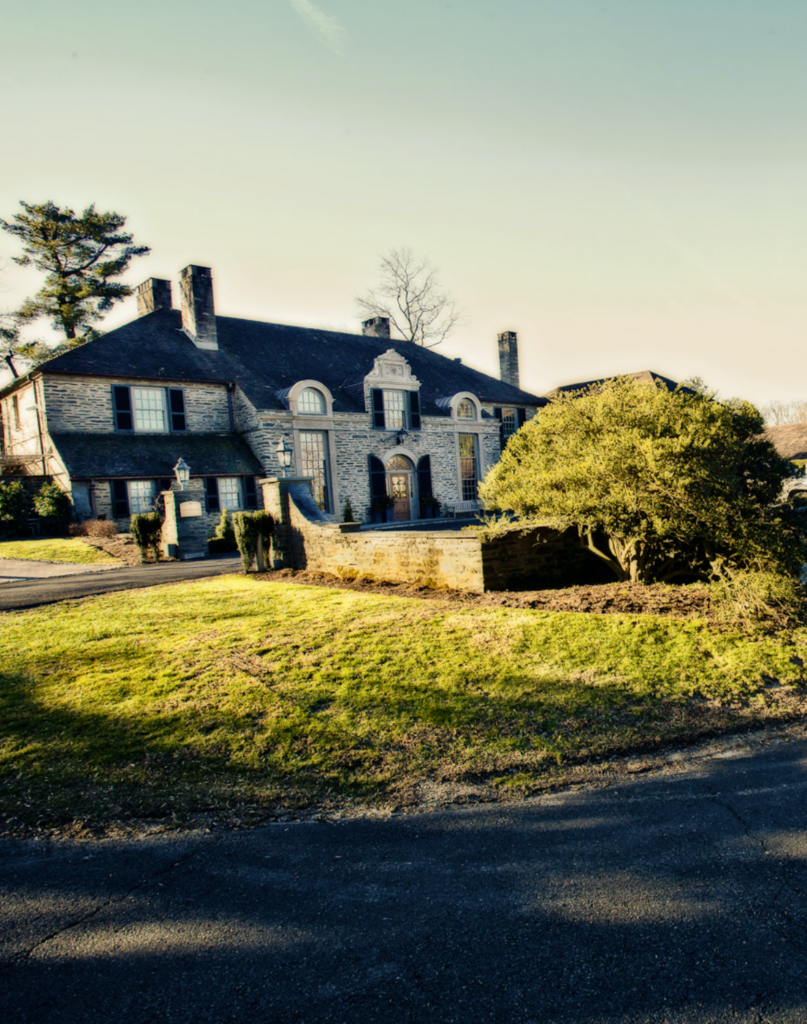 SUGARLOAF
A transformational moment
In August 2006, Sister Carol announced the acquisition of the Sugarloaf estate from the Albert M. Greenfield Foundation. Located across Germantown Avenue, the property effectively doubled the size of our campus, accommodating not just the growing student body but also a definitive vision for the College's future.
Today, Sugarloaf is fully renovated and serves as a hub for classes, student residences and social and meeting space.
But the future holds even more promise.
MOMENTS & MILESTONES
Perpetual growth, true community
Throughout Sister Carol's tenure, Chestnut Hill College has touched countless lives in a myriad of ways.
First doctoral program established
In 1996, under Sister Carol's guidance, the College launched its Doctor of Psychology program. Over the years it has matriculated nearly 300 graduates educated in psychological assessment, couple and family theory and therapy, and psychodynamic theory and therapy.
Academic expansion
Under Sister Carol's stewardship, the College saw the addition of 45 new majors, 54 new minors and 19 new certifications, housed within three schools, Undergraduate Studies (SUS), Graduate Studies (SGS), and the School for Continuing and Professional Studies (SCPS). Groundbreaking programs added include cybersecurity, exercise sciences, and law and legal studies.
Becoming co-educational
In November 2001, Sister Carol announced the plan to welcome men to the traditional-age, full-time undergraduate student body in the fall of 2003. Fast-forward 20 years and Chestnut Hill College has blossomed into a true microcosm of global society, supporting a student body ever diversifying across gender, race and ethnicity.
Expanding athletics
At the beginning of Sister Carol's presidency, Chestnut Hill College was home to just seven sports and two staff members. Thirty years later the College features 16 sports, competing in Division II's Central Athletic Collegiate Conference (CACC)—winning conference championships in many of them—women's bowling in the East Coast Conference (ECC) and sprint football in the Collegiate Sprint Football League (CSFL). The Athletics Department is supported by a robust staff and the Jack and Rosemary Murphy Gulati '61 Fitness Complex.
Growth through adult learning
By purchasing the adult degree program from Allentown's DeSales University, Chestnut Hill College expanded its program offerings for non-traditional students, developing the School of Continuing and Professional Studies (SCPS). This made the College's education accessible to adults in an accelerated format, and dramatically increased the size of the student body.
Deepening our mission, maintaining our values
Throughout Sister Carol's presidency, the College's mission and values have been her guide. From securing a grant to support annual weekend faculty and staff retreats, to appointing our first Chief Officer for Mission and Ministry and our first Chief Officer for Diversity, Equality and Inclusion, Sister Carol has ensured that the College stays true to its identity.
Highlights of the Chestnut Hill College experience
Encouraging the establishment of enriching extracurricular activities, Sister Carol has truly revolutionized what it means to participate in the Chestnut Hill College community. Highlights include our longstanding Biomedical Lecture series, our newer Cybersecurity Conference, and ongoing offerings such as the Steinway Series for piano performance, Schubert Lecture, Institute of Forgiveness and Reconciliation Lectures, Center for Concussion and Research and Studies and, yes, our beloved Harry Potter Academic Conference and Quidditch tournament.
International expansion
Committed to graduating students that are good citizens of the world, Sister Carol developed institutional partnerships with universities in 15 countries and built a robust on-campus experience for international students.
Reimagining administrative and academic governance structures
Sister Carol introduced the three-school structure (SUS, SGS and SCPS) and later spearheaded the organization of our 16 academic departments into six academic "centers," effectively integrating them according to their overarching objectives. She also oversaw the administrative migration to a vice president structure with deans, and the inauguration of a faculty senate.
Canines on campus
Starting with an Australian shepherd named Lady Fontbonne, "Bonnie", Sister Carol has championed having a dog (or two) on campus. Though the dogs have never lived up to their original assignment, chasing geese off campus grounds, they have played a supportive role to the College community at large—from evoking a needed smile to listening without judgement.